Interview with Hagai Gefen: Combining Gefen, Magenta Research and TVOne into ProAV group helps Nortek reach wide market for A/V switching from small homes to very large venues.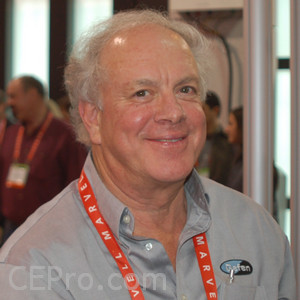 Last week, Nortek, Inc. (Nasdaq: NTK) announced it would combine three audio/video subsidiaries into a new group called ProAV – Gefen, Magenta Research and TVOne. All three groups target industrial, broadcast, government and other commercial markets with high-performance A/V switchers.
"Together, we have a really good chance of covering a lot of markets, a lot of ground," says Gefen founder and president Hagai Gefen, who now leads the ProAV group. "Each one by itself is limited to technology for the vertical markets they target. Together, we can do more with both low-end and high-end products."
The move mirrors a similar consolidation of Nortek's home technology brands including Elan Home Systems, Niles, SpeakerCraft, Panamax/Furman and Xantech into a group called Core Brands.
At that time, home systems professionals were wondering why Gefen wasn't part of that roll-up, since it has such a strong presence in the residential integration channel.
Now we know. While CE pros might know Gefen as a strong player in the home market, the company actually started life in broadcast, pro audio and pro video – just like Magenta and TVOne. Today, pro A/V accounts for more than half of Gefen's business, according to the founder.
RELATED: Home Tech History: M&As by Nortek, Legrand, Duchossois, D&M
"We branched into consumer because we have unique products for that market that other companies can't go," Gefen says.
Indeed, Gefen has been a market leader in the latest communications technologies including wireless, HDBaseT and fiber optics. Now, some of Gefen's residential technologies can and will be used by its sister companies.
For example, Gefen recently launched the GAVA (Gefen Audio Video Automation) solution for the home, but it can easily scale for the pro market.
"We already have a conference room solution and have been offering that already," Gefen says. "It's easy to implement now that we have a GUI and easy control through the network."
For its part, TVOne has its own control solution, called Corio, for large video deployments. The video processing product line is typically used with multiple monitors, for example in digital signage.
Magenta Research targets very large A/V installations, with up to 256 sources x 512 displays.
All three companies combined can deliver the full gamut of A/V solutions from the smaller, residential side to the largest venues, sharing intellectual and financial resources along the way.
The three companies are still working on the operational issues such as sales structure, office locations, marketing and other details associated with a merger … which this is not.
In fact, Mr. Gefen doesn't even have an official title as leader of the "ProAV group," a term that is only expected to be used internally.
"I'm not big on titles," he says.